5 Best WordPress Google reCAPTCHA plugins
Are you looking for the best WordPress Google reCAPTCHA plugins to protect your website from spam comments, unwanted login attempts and registrations? Look nowhere, I have prepared a list of the best Google reCAPTCHA plugins from WordPress.
Before we start, let us discuss
1. What is Google reCAPTCHA
CAPTCHA means Completely Automated Public Turing test to tell Computers and Humans Apart. reCAPTCHA is a free service provided by Google that protects websites from spam comments, unwanted login attempts and registrations.
2. How Google reCAPTCHA Work
reCAPTCHA uses advanced algorithms to determine whether the users are human or programmed users like bots. It block fake users.
Now, let's dive into the best WordPress Google reCAPTCHA plugins for WordPress.
1. Advanced Google reCAPTCHA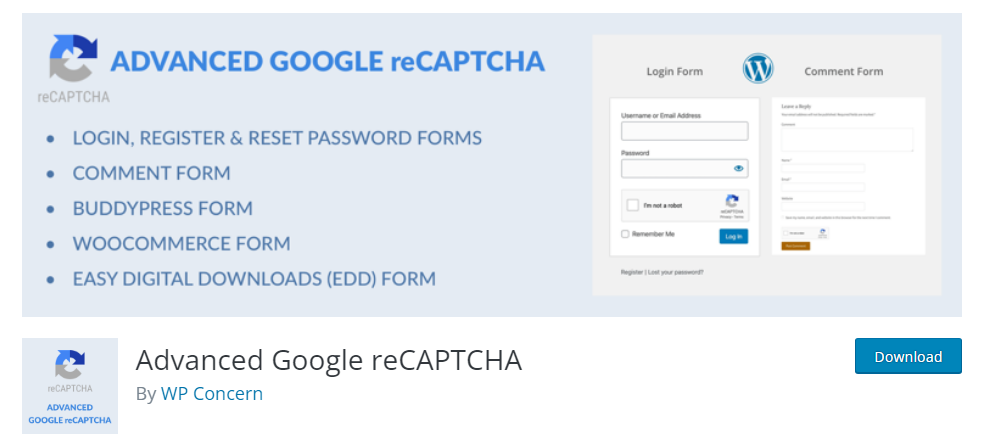 Advanced Google reCAPTCHA will safeguard your WordPress site from spam comments and brute force attacks. With this plugin, you can easily add Google reCAPTCHA to WordPress comment form, login form and other forms.
Using Advanced Google reCAPTCHA, you can be safe from spam comments and protect user accounts, WooCommerce, Easy Digital Downloads, BuddyPress and other forms from brute-force attacks.
2. Simple Google reCAPTCHA
Simple Google reCAPTCHA will protect your WordPress! You have choice between default v2 Checkbox and v3 (like invisible reCAPTCHA).
No more spam comments and brute-force attacks against user accounts. Small plugin, only necessary code – no ads or tracking!
Google reCAPTCHA verification will be required only for not logged in users.
User, who newly setup the keys, will see (max for 10 days) emergency reCAPTCHA deactivate link – don't need FTP access to disable Simple Google reCAPTCHA in case of emergency now.
3. reCAPTCHA for WooCommerce
Easily add Google reCAPTCHA to WooCommerce checkout and forms to help prevent spam.
4. reCaptcha by BestWebSoft
reCaptcha plugin is an effective security solution that protects your WordPress website forms from spam entries while letting real people pass through with ease. It can be used for login, registration, password recovery, comments, popular contact forms, and other. reCAPTCHA Version 3, Version 2, Invisible are included.
Users are required to confirm that they are not a robot before the form can be submitted. It's easy for people and hard for bots.
5. Login Security reCAPTCHA
Login Security reCAPTCHA is a security plugin for WordPress which can add Google reCAPTCHA to the WordPress login, registration, lost password, and comment form. This is a fast and very lightweight security plugin to place captcha on standard WordPress forms with minimal footprints to prevent spam comments and attacks like Brute-force. It supports Google reCAPTCHA Version 2 as well as Version 3 with multiple options. You can even make use of different versions of reCAPTCHA on different forms at the same time. The plugin comes with simple options to quickly set up captcha validation on the forms. Also, you can monitor failed login attempts and error logs.
Here, we are at the end of the article and I believe this article has helped you to select the best Google reCAPTCHA plugin for your WordPress site.